French Tennis Open, known as Roland Garros, is a major tennis event for both Women and Men. For Women, all eyes were expected to be on World known champions, such as Serena Williams or Naomi Osaka. However, as days have gone by, a new Women Tennis phenomenon has taken over: Coco Gauff, the rising genius from Delray Beach, Florida, USA. In 2022 the French Open, Coco Gauff reached the finals for both Women's Doubles and Women's Singles. She had the chances to win both, but she faced tough favorite competitors, especially the World number one ranked, Ukrainian Iga Swiatek, in the Singles. Hence, she didn't win any of the two finals, but she made tremendous steps on her journey to the top of Women Tennis.
Tennis fans have been shifting to new stars and upcoming talents, unknown until recent years. Coco Gauff, has become one of them. She started her rise to fame when, in 2019, then 15-year-old, in US Tennis Open she faced Naomi Osaka with so much determination and skills. In the end Naomi Osaka prevailed, 6-3, 6-0. Naomi Osaka won with grace and showed how great she is, both as a Tennis Player and a human, by encouraging Coco Gauff and showing sportsmanship ( see US Tennis Open: American Coco Gauff, 15, Faces World Tennis Number One Japanese Naomi Osaka, 21).
During the game,Coco Gauff put forward a class act, but in the end, most Tennis fans and experts concurred that it was, maybe better for Coco Gauff, still too young then, to lose to Naomi Osaka and take time to prepare her journey to the top. A year earlier, she had won the French Open Juniors. She did not disappoint, and since has become a Tennis phenomenon
In 2019, she reached the Wimbledon fourth round and was ranked in the top 100 women by WTA. In 2021, Coco Gauff qualified as a runner-up in the US Open doubles final in 2021.
Now, in the French Open, Coco Gauff has reached the finals for both Women's Doubles and Women's Singles. She has the chances to win both.
In the Women's Singles, Coco Gauff, after beating Italian Martina Trevisan, 6-3, 6-1, on Thursday June 2, 2022, will play Polish Iga Swiatek in the singles final on Saturday, June 4, 2022.
World number one Iga Swiatek, 21, reached the finals when she beat Daria Kasatkina, a 6-2 6-1. Coco Gauff, seeded 18th, is the youngest finalist at Roland Garros since Kim Clijsters in 2001.
On Friday, June 3, 2022, Coco Gauff and Jessica Pegula beat Americans Madison Keys and Taylor Townsend 6-4 7-6 (7-4) , to advance to the Women's Doubles Friday. In the finals, the faced the French pair Caroline Garcia and Kristina Mladenovic, that won against Ukraine's Lyudmyla Kichenok and Latvian Jelena Ostapenko in semi-finals .
On Saturday, June 4, 2022, the match between the favored World number one ranked Ukrainian Iga Swiatek and the phenomenal Coco Gauff was highly anticipated. Coco Gauff is well liked for her poise and control and her obvious growing talent, even when she was beating reknown tennis women.
However, Iga Swiatek was too good to be beaten. She was able to win by breaking Coco's first serves, agressively counteratacking against Coco's known forehand, and chasing any ball. At the end of the match, Coco Gauff retreated to her seat with tears in her eyes and said: "Iga was just too good. It's one of those matches that, yes, I, in some moments, could have played better. But she really didn't give me anything. Every time I thought I hit a good ball, it wasn't."
In the Women's Doubles on Sunday, Americans Coco Gauff and Jessica Pegula started with winning the first set against French Caroline Garcia and Kristina Mladenovic. Then, the French Caroline Garcia and Kristina Mladenovic recovered to beat the Americans 2-6 6-3 6-2 and win the French Open women's doubles title for a second time.
---
Advertisement
Get the following books on Amazon: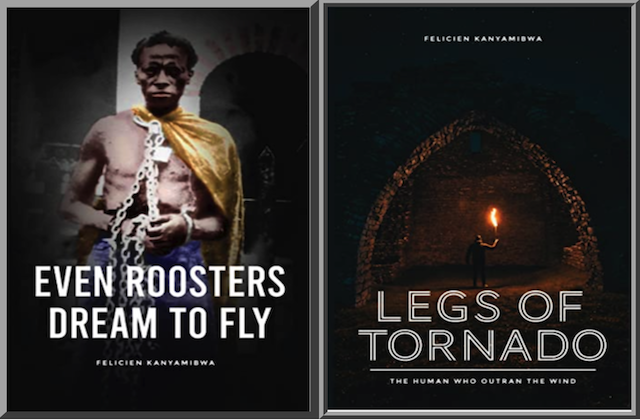 Even Roosters Dream to Fly: The Epic of a German White Catholic Priest and Manzi, a Freedom Fighter and a Mythological King of Rwanda.
Legs of Tornado: The Human Who Outran the Wind, an African tale about a human from a humble upbringing who outran the wind, defeated evil spirits, overcame his fate, became a respected clan chief, and triumphed ever after.
Even Roosters Dream to Fly along with Legs of Tornado are also available on Amazon worldwide and soon to several other platforms:
For more on the book, the author, the inspiration of the stories, Visit the author website here
---
@AfroAmerica Network 2022