Simone Biles,  the most decorated gymnast in the World championships history  and the recipient of the US Medal of Freedom has added a new medal to her count. On  Friday, October 6, 2023,  Simone Biles, 26,  added another  gold medal to her collection. With the medal, she becomes the most decorated gymnast in history and the first female gymnast to win six all-around world titles.  
 Simone Biles first made history in Stuttgart, Germany, on Sunday, October 13, 2010 in Women's Junior Olympic Level 10 National Championships, when she placed first on floor exercise and tied for third on vault. Over the years she increasingly went on to dominate  everywhere: floor, vault, and beam (see: Simone Biles Wins 25th Gold and Becomes Most Decorated Gymnast In World Championship History) and gradually became a role model for many young gymnasts looking up to her and emulating her integrity. ( see here: 2020 Tokyo Olympics: Simone Biles Wins Bronze, Becoming the Most Decorated Olympian in American Gymnastics History.). 
Her  latest achievement comes ten years after Simone Biles,  at age 16,  won her first world title in Antwerp, Belgium,  the same place where she just won the latest all-around gold medal.
With the win, Simona Biles has accumulated 34 world and Olympic medals, including 27 world championship medals and seven Olympic medals.  She now has  21 gold medals.  She is now the GOAT(Greatest of All Times) of Gymnastics.
---
Advertisement
Get the following books on Amazon: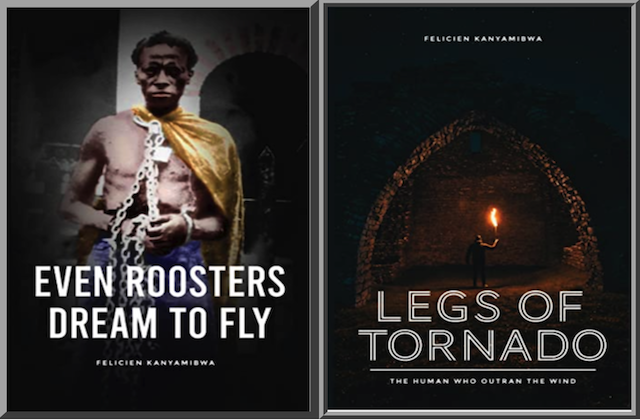 Even Roosters Dream to Fly: The Epic of a German White Catholic Priest and Manzi, a Freedom Fighter and a Mythological King of Rwanda.
Legs of Tornado: The Human Who Outran the Wind, an African tale about a human from a humble upbringing who outran the wind, defeated evil spirits, overcame his fate, became a respected clan chief, and triumphed ever after.
Even Roosters Dream to Fly along with Legs of Tornado are also available on Amazon worldwide and soon to several other platforms:
For more on the book, the author, the inspiration of the stories, Visit the author website here
---
Historical Performance, with three Black gymnasts winners
In the all-around final, Simone Biles completed the required events with a high performance in  vault, uneven bars, balance beam and floor.  Her win of the women's individual all-around final on Friday  October 6, 2023, to secure her 21st world championship gold medal came two days after her  U.S. women's team  won its seventh consecutive gold medal.
The event was even more historical. For the first time in the history of the sport, the world all-around winners included  three Black gymnasts. Afro-Brazilian Rebeca Rodrigues de Andrade, 24, the reigning all-around world champion,  won the silver medal, and the American Shilese Jones got the bronze medal.
In 2022, then  the most decorated American gymnast in history was awarded the Medal of Freedom for her courageous and relentless  advocacy  for victims of sexual assault, civil rights, and health care (US - Freedom: US Gymnast Simone Biles Awarded Medal of Freedom by President Joe Biden, Becoming the Youngest Person to Receive the Medal).
©2023 AfroAmerica Network.
---
Advertisement
AroniSmartIntelligence™, the leading tool for Advanced Analytics, Machine Learning & Data Science
Statisticians, Data Scientists, Business and Financial Analysts,  Savvy Investors, Engineers, Researchers,  Students, Teachers, Economists, Political Analysts,  and most of  the practitioners use Advanced Analytics to answer questions, to support informed  decision making or to learn.
AroniSmartIntelligence™ is a leading Advanced Analytics, Machine Learning and Data Science tool, with optimized cutting edge Statistics models, Econometrics, Big Data and Text Analytics.
AronismartIntelligence™ includes modules covering Machine Learning and Big Data mining, Unstructured Text Analysis, Sentiment and Emotion Analytics, Bayesian Statistics and other advanced analytics.
---