2014 US Open Tennis tournament is  being held in New York, Flushing Meadows between August 25 - September 7, 2014 at USTA Billie Jean King National Tennis Center. Below are the most recent news, along with the scores
Sunday, September 7, 2014
 Serena Williams has become the Champion if the US Open, ending the Grand Slam season on a high note. Whe defeated Caroline Wozniacki from Denamark 6-3, 6-3, earning her third consecutive U.S. Open title. As the champion of US Open, Serena Williams has earned $4 million, a record in tennis — $3 million for the title, plus a $1 million bonus.
By winning, Serena Williams is now at par with  Chris Evert and Martina Navratilova with 18 major singles titles, the fourth-most in history. Serena Williams has also matched Chris Evert's score of  six championships at the U.S. Open. She is the first woman to win three US Open titles in a row,  since Evert won four titles in a row between 1975-78.
Friday, September 5, 2014
5:00 pm to 12:00 AM

Serena Williams playing Ekaterina Makarova in semi-final round. Serena Williams was expected to win and she easily won. Score  Williams-Makarova:  6-1 6-3
Thursday, September 4, 2014
9:00 pm to 12:00 AM

Gael Monfils playing Roger Federer in  quarter final round. Federer wins, after an impressive lead 2 sets - 0,  by Monfils. Monfils appears overcome by lack of confidence. Score Monfils-Federer:  6-4 6-3 4-6 5-7 6-0
Wednesday, September 3, 2014
3:00 pm to 6:00 pm

Serena Williams playing Flavia Penneta in  quarter final round. Serena, in her tiger dress, appears unbeatable as her prowess ovewhelms Penneta.   Serena wins 6-3 6-2
Monday, September 1, 2014
3:00 pm to 6:00 pm

Serena Williams playing Kaia Tenepi in second  round.   Serena, in her pink tiger dress, is too much for Kaia Tenepi to handle. She wins 6-3 6-3
Saturday, August 30, 2014
 US Open Tournament News in Flushing, Queens, New York City.

Serena Williams playing Varvara Lepchenko in third round.  Serena wins 6-3 6-3
Friday, August 29, 2014
 US Open Tournament News in Flushing, Queens, New York City.

Venus Williams playing Sara Errani in third round.  Sara Errani  wins 6-0, 0-6, 7-6(5)
Monday, August 25, 2014
 US Open Tournament Opens in Flushing, Queens, New York City.

Venus Williams playing Date-Krumm from Japan.  Venus Williams wins 2-3, 6-3, 6-3

Andy Murray playing Robin Haase from the Netherlands. Andy Murray Wins: 6-3, 7-6(8-6), 1-6, 7-5

August 25: Birthday of Athea Gibson, the first black to with a Grand Slam Title, the French Open.

Athea Gibson was born  on August 25, 1927, in Silver, South Carolina, from two cotton sharecropers parents.  She was an American tennis player and professional golfer. In 1956, she won the French Open, becoming the first black to win  a Grand Slam title and hence  cross the color line of international tennis. In both 1957 and 1958 , she won both the Wimbledon and the U.S. Nationals, the precursor of the U.S. Open. This won her the Associated Press Female Athlete of the Year. During her career,  she won 11 Grand Slam tournaments, including six doubles titles. She was  inducted into the International Tennis Hall of Fame and the International Women's Sports Hall of Fame. In the early 1960s she also became the first black player to compete on the women's professional golf tour. She died on  September 28, 2003. 
Tuesday, August 18-19, 2014
Serena Williams favored to win US Open.

World number one Serena Williams is favored to win the US Open, to earn the 18 Grand Slam titlle of her career. After a disappoitment in Wimbledon, she has lately been on fire and beating most, if not, all the opponents she played against, except her older sister Venus  Williams to whom she lost in Montreal. She won the title to play the US open in Cincinnati.
Tuesday, August 18, 2014
Top players for noise during US Open.

Top world tennis players have expressed their opinons regarding allowing fans to make noise US Open matches. Top-ranked Novak Djokovic, Andy Murray, who experienced noise during West and Southern Open last week, when Serena Williams' interview with ESPN was aired in the speakers by accident, Maria Sharapova and others have welcomed the possibility of allowing noise. A few others, such as Ernest Gulbis have expressed their disapproval.

Rafael Nadal will not play due to wrist injury

Rafael, the World No 2 and 2013 US Open champion has confrmed that he will not play. It was believed that Nadal would play, despite the injury on hid right hand he has sustained since June 2014. Since  Nadal's injury was to his right wrist, which is not  his dominant hand, the fans had believed  the would still be a chance for him to play.

Novak Djokovic seeded no 1 and Roger Federer No 2

Novak Djokovic, top-ranked, has been seeded no 1 after beating Roger Feederer for the Wimbledon title last month. US Tennis Association has seeded the players, following ATP latest rankings. Other ranked in the order are: Stan Wawrinka from Australia, David Ferrer, Milos Raonic, Toma Bedych and Grigor Dimitrov
Friday, August 1, 2014
2013 US Open semifinalist Li Na has pulled out of this year's Open with a knee injury.

The World No. 2 and reigning Austratlian Open champion also pulled out of the Emirats Airline US Open Series

Rafael Nadal my not play due to wrist injury

Rafael is World No 2 and 2013 US Open champion. Since  Nadal's injury is to his right wrist, which is not  his dominant hand, there still is a chance for him to play.

Andy Roddick, expected to play doubles, will not play

The semi-retired Andy Roddick was expected to get ouf his retirement and play double. He did not take the required drug tests. For that, he can't play in US Open. 
Thursday, July 31, 2014
At leas this is known. Li Na will not present. At 32 years old, this may be a turning point in her Tennis career.

No. 82 Alisa Kleybanova, of Russia, and No. 90 Victoria Duval decline to play due to injury

Although not contenders to the title they were expected to challenge the big girls.

Sixteen players to be selected through US Open Qualifying Tournament

Sixteen players to qualify for the US Open through the US Open Qualifying Tournament, held Aug. 19-22.  The remaining eight spots are wild cards awarded by the USTA.
Wednesday, July 30, 2014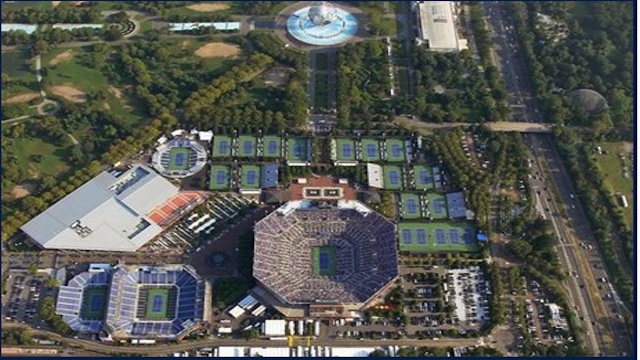 2014 US Open Tennis tournament will  being held in New York, Flushing Meadows between August 25 - September 7, 2014 at USTA Billie Jean King National Tennis Center. This is the next major Tennis event after the final curtain on Australian Open, French Open and Wimbedon.Although the dates are known, what is not clear is who will be missing the tournaments. From Serena Williams, to Li Na from the Women side to Novak Djokovic, Roger Federer, Andy Murray,  and Rafael Nadal, on the men's side,  the participation of many is still in doubt.
Serena Williams was unable to finish in Wimbledon due to a bizzare, still uknown ailment. Will she or not partipate? If she does not, then it will be a major loss. As World No 1 and two-time defending US Open Champion, Serena Williams is needed to face the reigning Wimbledon champion Petra Kvitova and other former US Open winners Samantha Stosur and Svetlana Kuznetsova.
Venus and Serena Williams and nine other American players  have been directly admitted  to play in 2014 US Tennis Open: No. 22 Sloane Stephens, No. 27 Madison Keys, No. 41 CoCo Vandeweghe, No. 43 Alison Riske, No. 44 Lauren Davis, No. 49 Varvara Lepchenko, No. 51 Christina McHale, No. 76 Vania King and No. 104 Shelby Rogers.
These players will be joined by other top women players from around the globe, including: the current world No. 3 Simona Halep, the French Open runner-up and Wimbledon semifinalist; No. 5 Agnieszka Radwanska, of Poland; No. 6 Sharapova, of Russia; and No. 7 Eugenie Bouchard, of CanadaNo. 8 Angelique Kerber, of Germany a two-time US Open semifinalist (2011-12); No. 9 Jelena Jankovic, of Serbia, a former world No. 1 and US Open finalist (2008), and No. 10 Victoria Azarenka, of Belarus,a former world No. 1 and two-time Australian Open champion (2012-13).
Other women ranked are: Virginie Razzano, from France, ranked No. 105, was the last player accepted directly into the original women's field of 128. Two players withdrew from the original list due to injury: No. 82 Alisa Kleybanova, of Russia, and No. 90 Victoria Duval, of the U.S. One player is using a special ranking to gain entry into the main draw: No. 40 Romina Oprandi, of Switzerland.
From the Men side several names are expected to challenge the big guys, including John Isner, Milos Raonic, Stanislal Wawrinka, the Bulganrian Grigo Dimitrov, and the Czech Tomas Berdych