On June 16, 2020, AroniSmart™ team, leveraging the Machine Learning, Text Analytics, and Sentiment and Valance Analysis capabilities of AroniSmartIntelligence™, continued looking at the market sentiment index and events driving the stock market at the end of Q2 2020 (see here: AroniSmartIntelligence™ in Action: Market Sentiment and Key Stocks in June 2020 ). From the analysis, AroniSmart continued to highlight the key major events impacting the financial sector, the stock markets, and the economy in general. AroniSmart™ analysis showed that despite the market coming back from the significant deep since early March 2020, the overall sentiment was improving and close to being positive, across the board. With this analysis, AroniSmart™ team conttinues to analyze the dynamics in Q2 2020.
Advertisement
---
A little bit of the insights on the market events and sentiments, from AroniSmart™ team's findings, based on the data as of July 10, 2020. AroniSmart™ team analyzed the key stories, leveraging the Tex Mining, Machine Learning and Sentiment and Valence Analysis capabilities of AroniSmartIntelligence™ and uncovered interesting insights.
General Market Events and Sentiments
In general the Market Sentiment is still improving and becoming more pisitive, especially in news related to stock markets. The positivity on stock related news is in general greater than 50%. Other news on economy remain neutral, but evolving towards the average positivity (<50%)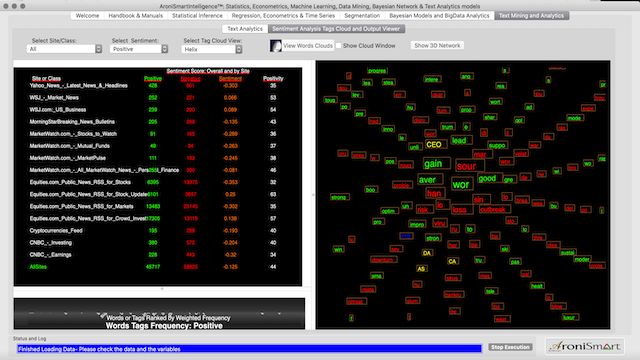 AroniSmartIntelligence™ Analysis of Positive and Negative Sentiment words.
Based on the analysis, as depicted in the Words Cloud below, it was found that the the positivity (see words in green) is driven by words such as Work, Aver, lead, great, gain, improvement, unlimit, support, sharp. The words point to the performance of the stock market.
The negativity appears to come from the economy and healthcare including loss, virus, outbreak, volatility, tumble, sour, dsrupt, rough, hang, anger, inequality, disrupt, bankrupt, struggle, rough, and risk.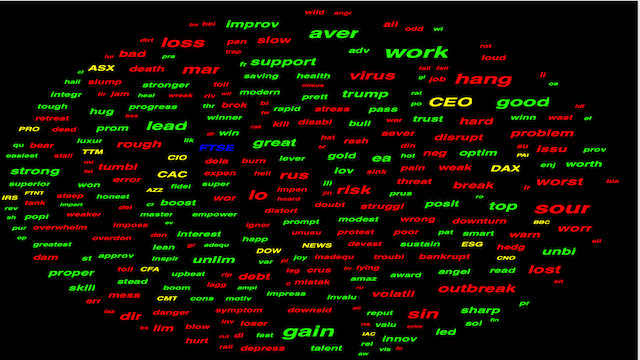 AroniSmartInvest™ in Action: Key Stocks Driving the Market Sentiment
Based on the analysis, it was found that the sectors driving the markets appear to be TECH,Healthcare, Home Based Entertainment with a strong momentum.
Both Financial and Retail sectors appear to be slowing down after uptrends since the end of May 2020, following the latest COVID-19 news.
The key stocks tickers, with high overall index in the AroniSmartIntelligence word cloud analysis, as of July 10, 2020 are:
More detailed analyses can be conducted using AroniSmartInteligence™ Big Data, Machine Learning, Time Series and Sentiment Analysis capabilities.
---
Advertisement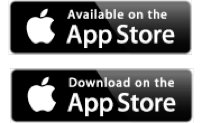 AroniSmartIntelligence, the leading tool for Advanced Analytics, Machine Learning & Data Science
Statisticians, Data Scientists, Business and Financial Analysts, Savvy Investors, Engineers, Researchers, Students, Teachers, Economists, Political Analysts, and most of the practitioners use Advanced Analytics to answer questions, to support informed decision making or to learn.
AroniSmartIntelligence™ is a leading Advanced Analytics, Machine Learning and Data Science tool, with optimized cutting edge Statistics models, Econometrics, Big Data and Text Analytics.
AronismartIntelligence™ includes modules covering Machine Learning and Big Data mining, Unstructured Text Analysis, Sentiment and Emotion Analytics, Bayesian Statistics and other advanced analytics.
---